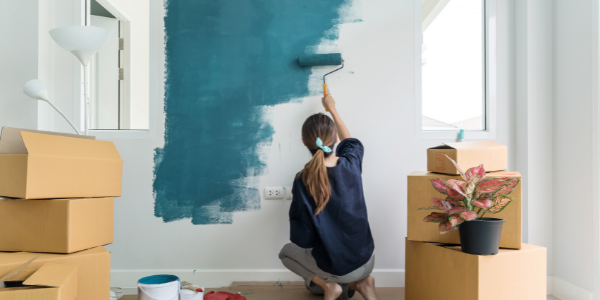 It's the age-old question: when is it a good time to buy a home? The problem with that question is it has no right answer. You can have the most favorable market conditions in the world—low listing prices because it's a buyer's market, low interest rates, loose qualification standards—but if you're not in the right position to buy, it's still not a good time to buy a home.
The reverse can also be true. The housing market may be competitive with high home prices, interest rates, and more borrower restrictions. But if you have all your ducks in order and feel secure with your current and future income, should you really hold off buying hoping the market will turn? What if it doesn't but just keeps going up?
No one can answer these questions but you. The homebuying process is a deeply personal one, and though economists and housing experts are always willing to provide their two cents, they're not on the hook for that down payment and mortgage.
You obviously need to let internal navigation be your guide, but in terms of external factors, there are some considerations to keep in mind that apply to most would-be homebuyers in 2021.
Low Interest Rates 
They don't call 'em low interest rates for nothing. Borrowing money is cheaper than it has been in most people's lifetimes, which means a lot when you're looking to purchase a large item like a home.
First off, it means your dollar will go a lot further. You may be able to afford "more home" (read: have a higher budget) or have a lower monthly mortgage payment. Depending on the price of your home, down payment, and interest rate, this could save you anywhere from a few dollars to hundreds of dollars a month!
This may not seem like much over the course of a year, but when you think in terms of a 30-year mortgage, those extra savings really go a long way.
Appreciation
No one has a crystal ball—economists and housing experts included. However, home prices have grown by an average of 11% so far in 2021, according to the S&P CoreLogic Case-Shiller 20-metro-area house price index. This is almost double the 5.7% appreciation rate that was predicted in February.
When determining if it's a good time to buy a home, it's logical to wonder whether prices will drop, especially since they've been on quite the upswing for some time now. Here's the thing: prices will drop. Eventually. Just like the stock market will drop eventually. But when that drop occurs and to what extent is anybody's guess.
Some worry that this hot housing market resembles 2008 and the Great Recession, which was facilitated by the subprime mortgage crash. This is a totally legitimate fear, but today's fundamentals are far, far different than they were 13 years ago. Lending standards are tighter, resulting in far fewer issues with buyers getting into a loan they can't afford, and most homeowners have accumulated significant equity in their homes. This means they're a lot more likely to sell their homes for a profit than go into foreclosure if they find themselves in a financially difficult situation (once the foreclosure moratorium runs out, that is).
Plus, if you wait for that "drop," you could be missing out on all the increases that occur before this happens. Yes, the naysayers are right in the sense that prices will drop at some point—even a broken clock is right twice a day—but no one can tell you when, how far, or how much appreciation you'd miss out on if you wait for this to happen.
Inflation
A trip to the gas station or grocery store has probably revealed to you that inflation is here. This means the price of items you purchased last month has likely risen, with no upside to you (like a larger quantity). During inflationary periods, your money is worth less and the cost of goods is higher.
So how does this factor into determining whether it's a good time to buy a home? Well, investing in a home can hedge against inflation because you will be fixing your costs through your 15- or 30-year mortgage term. We will enter and exit inflationary periods over the course of your mortgage term, but this won't impact your investment because the cost to own your home will never change unless you choose to refinance.
Another thing to consider about inflation is that the cost of homes also rises during these periods because, after all, they are an item you purchase. An inflationary environment can buoy home prices, allowing sellers to achieve a higher price tag than they may otherwise be able to.
The Cost of Waiting
Now that we've gone over a few fundamentals, let's factor in the cost of waiting when determining if now is a good time to buy a home. If you wait to purchase a home, interest rates are likely to rise. They're so low right now that the only place they really have to go is up. This would diminish your purchasing power and could increase your monthly mortgage payment.
Now, the cost of a home could go down. Absolutely. It could—and will eventually—happen. Forecasters don't see this occurring anytime soon, however. And if you wait for that drop, you're missing out on the run up, which can sometimes be years before this occurs. Waiting could translate into a case of stepping over dollars to save pennies.
With inflation still occurring, the price of goods and services may continue to go up, taking a bite out of your housing budget in the process. Your money may go further today than it will two or three months from now, though how long this inflationary period will last is anybody's guess.
Finally, let's circle back to where we started. If you're mentally and financially ready to buy, then it's a good time to buy a home. Why rent for another year? Rental rates are also through the roof, a landlord could choose not to renew your lease, and competition is super fierce in this market as well. Instead, you could potentially enjoy the upside of a strong housing market as you watch your asset appreciate right before your very eyes.
Santa Clarita mortgages lender American Family Funding can help you fulfill your dream of home ownership. A highly rated Santa Clarita mortgages lender, American Family Funding maintains a focus on community involvement and a commitment to giving back whenever possible. A friendly mortgage advisor will make the first time homebuyer experience an easy and stress-free experience — even with bad credit or a low down payment. The Santa Clarita home loan officers at American Family Funding also specialize in VA loans, reverse mortgages, refinancing and the STAR Loan Program.
American Family Funding Recent Articles:
Quick takeaways: Three ways to ensure a positive experience for first-time homebuyers. Google is making privacy changes to its Chrome…