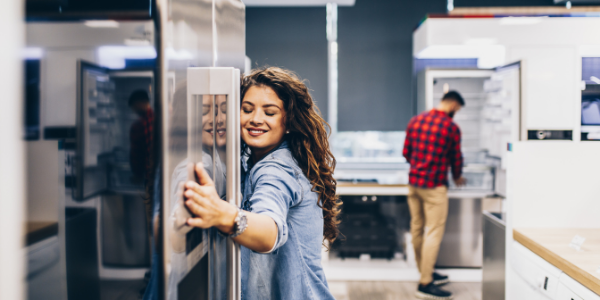 Understanding the homebuying process is one thing, but did you know you should also have a solid grasp on the mortgage process before you look to buy a new home? That's because one typically precedes the other. Unless you're an all-cash buyer, you'll want to understand how the mortgage process works. Once you do, it's a whole lot simpler to create your housing budget, make a list of your needs vs. wants, and proceed with eyes wide open.
This starts with knowing what to do—and what not to do—before you begin the homebuying process. We know it's so hard to resist Zillow once you know you want to buy a home, but these tips and tricks can save you time, energy, and money. All three of these will sure come in handy when you're ready to buy your new home!
Do: Get pre-approved
Don't: Go house shopping without knowing what you can afford
Getting pre-approved is an important part of the mortgage process. It will reveal exactly how much home you can afford and will give you a sense of your monthly mortgage payment based on interest rates and the size of your down payment. An APM loan advisor can walk you through this aspect of the mortgage process, which can be specifically tailored to your financial situation. For example, they can tell you how much you'd have to put down to achieve a certain monthly mortgage payment, or what your mortgage payment would likely be based on your down payment.
Let's say you're set on not exceeding a monthly mortgage payment of $1,500. A loan advisor can run the numbers for you. If it turns out you're not pre-approved for a loan that would result in that monthly payment, you can walk through other scenarios before you get your heart set on a house.
This may mean saving up for a larger down payment, fixing credit issues, looking at a different loan program, or adjusting your budget. In any scenario, you want the heads up before you get attached to a specific home, neighborhood, or budget.
Do: Work with homebuying professionals
Don't: Think you have to do it alone
A trusted, qualified loan advisor is certainly the person you want in your corner when it comes to the mortgage process, pre-approval, and closing a loan. However, we're not the only professionals who should be on your team. Real estate agents, home inspectors, and accountants play pivotal roles in your homebuying journey as well.
Many people mistakenly assume they're "bothering" professionals with their questions when, in reality, it's what we're here for! You don't have to sign on the dotted line, and you are not obligated to give anyone your exclusive business when you're simply dipping your toes in the homebuying pool. Even when you need to hire someone, such as a home inspector, you're free to pass on the first, second, or even third professional you contact until you find one who works for you.
Professionals are professionals for a reason—because they're experts in their field! Don't pull your hair out trying to find answers (or take on tasks) that a real estate agent, loan advisor, or inspector could easily provide. Always remember that housing-related professionals are here to serve YOU!
Do: Understand your credit
Don't: Open or close credit lines without consulting your loan advisor
Don't see anything unusual? Feel good about your credit report? That's great! Now you can sit back and do absolutely nothing as the mortgage process gets underway. And we do mean absolutely nothing. A large part of your loan's approval will depend on your debt-to-income ratio, or DTI, for short. Once this figure has been calculated, you don't want to throw it out of whack during the homebuying process by opening or closing a line of credit, co-signing a loan, or making a major purchase with credit before or during the mortgage process.
This doesn't mean you have to stop using your credit cards completely. It simply means it's a good idea to check in with your loan advisor before you do anything out of the ordinary with your credit, like make a large purchase.
Do: Keep the lines of communication open
Don't: Be slow to respond to your loan team
When buying a home, we know time is of the essence . . . we just need you to know that, too! This means responding to requests for additional documentation or addressing any questions in a timely manner. Your loan advisor will be as transparent, communicative, and updated on the mortgage process as possible, but they need some help from you, as well.
The mortgage process requires documentation for items like income, employment verification, and your current debts or obligations. Good records keep this process moving smoothly. So do yourself a favor and keep a file of all W-2s, tax return documents, pay stubs, and bank statements for the past two years within reach. And if your mortgage advisor asks for additional documentation during the process, don't be surprised. It may be something the underwriter needs to help you close your loan.
Feel free to contact your loan advisor anytime (remember, this isn't a one-way street!) if you have questions about these documents, what they are, why they're needed, or how you can track them down. We know the mortgage process can seem overwhelming and intimidating. We're here to make it easier for you.
Santa Clarita mortgages lender American Family Funding can help you fulfill your dream of home ownership. A highly rated Santa Clarita mortgages lender, American Family Funding maintains a focus on community involvement and a commitment to giving back whenever possible. A friendly mortgage advisor will make the first time homebuyer experience an easy and stress-free experience — even with bad credit or a low down payment. The Santa Clarita home loan officers at American Family Funding also specialize in VA loans, reverse mortgages, refinancing and the STAR Loan Program.
American Family Funding Recent Articles:
Quick takeaways: Three ways to ensure a positive experience for first-time homebuyers. Google is making privacy changes to its Chrome…